CLICK ON THE ARTISTS' NAME TO GET TICKETS

A rarity in folk music, Hannah is a singer, musician and innovative clog dancer.
She is so well known to the Club, from her appearances with Maddy Prior, Sam Sweeney and, of course, Lady Maisery.
Jig Doll is a highly successful project created by Hannah which combines all of these disciplines in a beautiful new show exploring the life of the travelling player: sometimes exotic, sometimes frightening, it's a world where home changes daily, and the only touchstones are the skills you carry with you, and the people you meet on the way.
Jig Doll is the culmination of Hannah's career thus far, allowing her to combine all of the disciplines for which she's become known and take them to exciting new places. Much more than a concert, Jig Doll features newly-composed music in a magical setting woven around percussive dance.

A complete evening of music, song and dance - all wrapped up in one amazingly talented woman!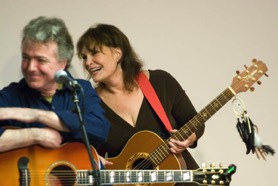 With a combined working history reading like a Who's Who of household names in music... Righteous Brothers, Mary Hopkin, Chet Atkins, Strawbs and many more, now it's their turn at the front of the stage, to sing and play their own well-crafted brand of acoustic guitar-based material.
Their "Alice's Song" was an Aled Jones "Highlight of the Year" on BBC Radio 2. Cathryn was Simon Mayo's star guest on BBC Radio 2Day, live from Nashville. The Telegraph's Martin Chilton named the duo as his "Folk Gig Pick" in 2015.
A superb selection of material, together with many humorous stories of travels on the road of life. Not to be missed.
Dartford Folk Club
Welcome return of Cathryn and Brian to the Festival. If we hadn't managed to book them, I would have travelled to see them elsewhere.
Saltburn Festival
Staggeringly good...truly magical guitar work, vocals to lift your heart and soul, with utterly unforgettable songs.
Folk on the Moor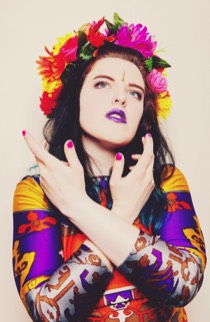 Lucy Ward is an award winning singer-songwriter from Derby. She plays guitar, ukulele and concertina but considers her voice to be her first instrument.
After getting her first guitar at the age of 14, Lucy ventured into acoustic clubs, it was there that she first heard the traditional music that she now loves. Captured by the lyrics and stories of traditional song Lucy delved further into the world of folk music, visiting clubs and sessions up and down the country before getting booked to play gigs in her own right. In 2009 Lucy reached the final of the BBC Young Folk Award and she hasn't looked back since!
After winning the Horizon Award for best newcomer at the 2012 BBC Radio 2 Folk Awards, Lucy's career has gone from strength to strength establishing her as one of the hottest performers on the UK Folk scene, pulling a full capacity audience for her Cambridge Folk Festival debut.
In 2013 it was announced that she had been nominated for the acclaimed "Folk Singer of the Year" at the 2014 BBC Radio 2 Folk Awards, making Lucy one of the youngest people ever to be nominated for this most prestigious award.
As well as her own music Lucy has written for both film, theatre and has been involved with many, varied projects.